EMPOWERING RETAIL WITH FACIAL RECOGNITION
PIONEERING OF THE BIOMETRIC PAYMENTS
New level of customer service
Recognize your customers and give more than competitors
Face recognition: the future of payment
Just smile into the camera and have the payment done
What once seemed the stuff of science fiction is now becoming a reality for businesses and consumers. Face recognition technology is gaining momentum and now can be used as a form of payment method. It recognizes faces with flawless accuracy, allowing people to make secure payments.
No more credit cards or online wallets. Paying with your face is the next disruptive technology that will significantly impact the world of consumer payments in general. Eliminate the need for users to enter passwords or use other manual authentication methods.
Face biometrics for loyalty programs
The Riddletag team is experienced in the most innovative loyalty programs
When customers have a positive experience with your brand, they are probably come back and maintain the relationship. So when deciding on what makes an effective customer experience while you're setting strategic priorities, think about the role of technology and data. Seamless customer service is a powerful way to attract and retain true brand advocates. Superior customer experience leads to true loyalty that generates consistent revenue growth.
Improve your customer experience using face recognition. Identify the key customers right after they enter your store and deliver them a unique service. By introducing the face recognition technology and combining it with the loyalty program, the retailer will be able to provide a more personal in-store experience. This will lead to better customer satisfaction and increased loyalty.
Create a smarter shopping experience
Gain a competitive advantage and create convenience
Face recognition technology revolutionizes the way most industries operate. It enables brick and mortar stores to do what their online counterparts have been doing for years – identify customers, connect them to past purchases, and based on the received data, create personalized recommendations.
Face recognition has the potential to give traditional stores a more extensive view, showing who's buying what and when. With this data, shops are able to provide better service that will keep customers engaged and loyal.
About us
Riddletag creates digital solutions for offline businesses using face recognition technology. We help companies to automate their business and improve sales processes. Riddletag is here to help retail and traditional businesses analyze customer's in-store experience through advanced face recognition technology.
Benefits of using face recognition software
Our real-time engine recognizes and informs your CRM system about clients in just a few seconds
Real-time personalization
Provide your customers with personalized offers and keep them engaged and happy with your brand.
Improved customer service
Forget about plastic credit and loyalty cards and passwords. Make it real for your customers to pay with the face.
Accurate data
Analyze customers' behavior – where they go and what grabs their attention. These in-depth details about the customers help your business understand customers better.
Smooth integration
Easily add face recognition technology into your system or application, with robust API and SDK.
How does face biometrics work?
---
Face biometrics is easy to deploy and implement. There is no physical interaction required by the end user. Face detection and face match processes for identification/verification are very fast. The first step for using face recognition software is to register people into the software database. Registration is done by using high-quality reference photos. Next feed the software with high-quality photos where the faces are fully visible. Then match process where the software compares the faces' representation in the photo against the ones in the database. The matching can be done two ways: as an identification process, where comparison encounter the entire database, or as a verification process, where the software verifies the identity of a person against its supposed photo in the database.
---
Our partners
We work with market leaders
New opportunities for retail companies
Customer identity for your business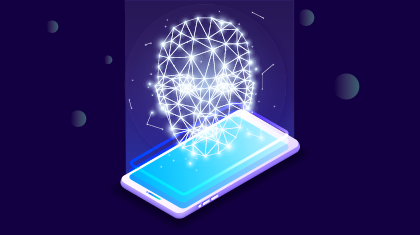 Usually, most customers don't use their plastic loyalty cards systematically, therefore retail businesses are not always able to collect precise data about customers' purchases and behavior. Thanks to our solution your business will recognize customer in any touch point at the store so you have an opportunity to personalize communication with customers in real time.